Governor Tony Evers has declared Thursday, May 18, 2023 Wisconsin School Garden Day! (Read Gov. Evers' 2023 proclamation here.)
Wisconsin is a leader in garden-based education. This day brings recognition to the people and programs giving Wisconsin's youth access to innovative, hands-on educational opportunities.
You can participate in Wisconsin School Garden Day by engaging in some type of garden-based education activity or celebration on May 18, 2023 (or another day that week).
We encourage everyone to celebrate Wisconsin School Garden Day in a way that best fits their programs. Any activity that involves kids engaging with a garden or gardening–including, but not limited to, activities around planting, observing, art, literature, STEM, weeding, and planning–can be a way to celebrate Wisconsin School Garden Day.
If you're looking for inspiration:
Check out the list of participating programs below.

Northstar

Middle School, Eau Claire: Edible Classroom will be installing Subpod Composting Beds to celebrate this year!
Bayfield: Students K-12 are invited to partake in planting, garden maintenance and clean up, and fun outdoor activities like flying kites, blowing bubbles, and chalk drawing. We will also be firing up our garden earth oven and making fresh fish and pizza accompanied by wild foraged pesto.
Madison Children's Museum, Madison: On Thursday, May 18 from 11:30 am to 12:30 pm, come help us help us plant our teaching garden on the roof of the museum.
Oregon School District: We are partnering with a master gardener volunteer, a teacher, and her students to plant native plants we received from Plant Dane.
Burdick School, Milwaukee: Gardening activities.
St. Jacobi Lutheran School, Greenfield: The 5th graders have been working hard to start two raised gardens on our site. They are also working with retired adults from our church to plant flowers around our property, create a rain garden to help manage rain water, and to spread mulch around the garden beds to help keep weeds down. On Thursday, we are going on a field trip to Milaeger's in Racine to see their greenhouses.
Midvale Elementary, Madison: We will be transplanting seedlings into the garden and doing other garden work.
Badger Rock Middle School, Madison: Partnering with MG&E to plant elderberries, painting a mural on our fence and exploring sustainable energy in the kitchen cooking a recipe that will use MG&E's bicycle blender to generate electricity while we blend.
Troy Kids' Garden, Madison: Planting vegetable seedlings and seeds all week with our after-school groups.
Elvehjem Elementary, Madison: Planting our gardens.
Lake View Elementary, Madison: Planting our gardens.
Schenk Elementary, Madison: Planting our gardens.
Crestwood Elementary, Madison: Planting our gardens.
Leopold Elementary, Madison: Planting our gardens.
La Follette High School, Madison: We'll be organizing/getting the raised beds set up (and maybe planting!)
Mendota Elementary, Madison: Planting our gardens and hosting an event with a special guest (stay tuned for more!)
Lapham Elementary, Madison: Planting our gardens.

Scroll through past participant lists to see what other programs have done to celebrate: 2019 2020 2021 2022
Read through the Wisconsin School Garden Day Activity Guide for suggestions that are engaging and easy to implement at your school or program.
We want to know what you have planned! If you know how you will celebrate Wisconsin School Garden Day, tell us about it! You can email Director of Youth Garden Support,
Erica Krug
, or share on Instagram or Facebook with the hashtag
#WISchoolGardenDay
.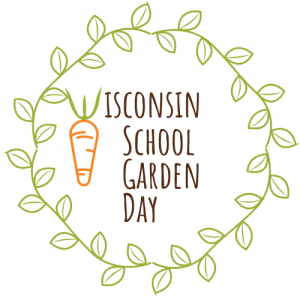 Copy the Wisconsin School Garden Day logo to use at your program!