Governor Tony Evers will declare Thursday, May 19, 2022 Wisconsin School Garden Day! (Read Gov. Evers's proclamation here.)
Wisconsin is a leader in garden-based education. This day brings recognition to the people and programs giving Wisconsin's youth access to innovative, hands-on educational opportunities.
You can participate in Wisconsin School Garden Day by engaging in some type of garden-based education activity or celebration on May 19, 2022 (or another day that week).
We encourage everyone to celebrate Wisconsin School Garden Day in a way that is safe and best fits them and/or their programs. Any activity that involves kids engaging with a garden or gardening–including, but not limited to, activities around planting, observing, art, literature, STEM, weeding, and planning–can be a way to celebrate Wisconsin School Garden Day.
If you're looking for inspiration:
Check out the list of participating programs below.
Scroll through past participant lists to see what other programs have done to celebrate: 2019 2020 2021
Read through the 2022 Wisconsin School Garden Day Activity Guide for suggestions that are engaging and easy to implement at your school or program.

Organizations from across the country have been developing activities and curricular materials to help families and educators incorporate garden-based learning–both in the garden and in the virtual classroom–in ways that are accessible to all children.

You can find these high quality, free resources here.
We want to know what you have planned! If you know how you will celebrate Wisconsin School Garden Day, tell us about it! You can email Communications Director
Renata Solan
or share on Twitter or Facebook with the hashtag
#WISchoolGardenDay
.
Wisconsin School Garden Day Celebrations:
Wisconsin schools, programs, educators, and early care sites are letting us know how they will celebrate Wisconsin School Garden Day this year. These celebrations are in addition to many students across the state who will be celebrating in their homes, gardens, and neighborhoods with their families. If you know how you plan to celebrate Wisconsin School Garden Day, 
let us know
!
Badger Rock Middle School, Madison: Students will work on beekeeping and processing honey and will then cook a dish using the harvested honey
Bayfield School District, Bayfield: hosting a "School Garden Fair" with multiple stations including art, games, starting seeds, perennial planting, tree planting, garden clean up, earth oven cooking, and radish taste test for Harvest of the Month in partnership with UW-Ex FoodWIse and Great Lakes Intertribal Council Nutrition team
Blooming Grove Montessori, Madison: Planting in the school garden
Colby Elementary School, Colby:

Cleaning up the outdoor gardens as well as planting some radish and lettuce seeds

Crestwood Elementary School, Madison:

Planting seedlings and seeds in the school garden

Elvehjem Elementary School, Madison: Planting seedlings and seeds in the school garden
Goodman Youth Farm, Madison:

Field trip with University School visiting from Milwaukee

GROW, La Crosse: garden lessons and planting in the garden with students at Hamilton / SOTAI Elementary School and social media highlights showing garden lessons and activities
Hamilton Elementary School, La Crosse: GROW will host 3rd and 4th graders for a field trip at Deep Roots Community Farm
High Marq Environmental Charter School, Montello: Working on putting in a sensory garden focusing on plants that you can see, taste, touch, smell, and hear
La Follette High School, Madison: Garden Club will build a new raised garden bed
Lac du Flambeau Elementary School, Lac du Flambeau: 4th graders will explore the LDF Wellness Center to plant the pumpkin, cucumber, and sunflowers plants that they start from seed in class on WI School Garden Day; students will also be prepping the community garden site
Lake View Elementary School, Madison:

Planting seedlings and seeds in the school garden

Lansing Food Forest, Madison: a community planting event day for children in the neighborhood to plant vegetables
Madison Children's Museum: Acclaimed local author Pat Zeitlow Miller will read her newest book on the museum's rooftop garden with a special introduction from Rep. Francesca Hong
Mendota Elementary School, Madison:

Planting seedlings and seeds in the school garden

Montello School District: Maintaining the new sensory garden
Nuestro Mundo, Madison: planting with the community a green salsa, red salsa and a milpa (Mesoamerican intercropping system)
Pinney Library, Madison: Book displays and activities celebrating gardens
Schenk Elementary School, Madison:

Learning about pollination and making pollinator wands to better understand how pollen moves from one plant to another

Spring Harbor Middle School, Madison: Transplanting the seedlings from the hoop house and greenhouse into the veggie gardens
State Road Elementary School, La Crosse: 5th Grade students will celebrate non-profit organization GROW's 10th anniversary by painting garden stones, which will help these garden lesson alumni leave their mark on their school garden
Terri's Treehouse, Woodruff:

Kicking off the program's compost and recycled bird feeders

Tomorrow River Community Charter School, Amherst Junction: 3rd grade students will be planting a three sisters garden beds and learning about the cultural importance of the three sisters to indigenous communities
Vincent High School, Milwaukee: preparing the garden and garden beds for planting with special guest Lt. Gov. Barnes
.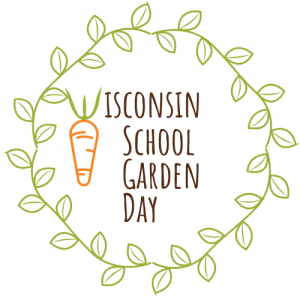 Copy the Wisconsin School Garden Day logo to use at your program!