Rooted, Life Lab, and Wisconsin School Garden Network
present
Teaching in Nature's Classroom: a free online course for educators
Since 2020, the teaching in Nature's Classroom Course has offered a learning community for educators working with children of any age to learn with and from each other. We are now offering a version of the course that is specifically for early care and education (ECE) providers. This new version will include all of the same assignments, materials, and networking opportunities with modifications to address the unique needs of the early care environment. If you are an early care provider, you are invited to register for either course. If you have any questions, please reach out to Erica Krug at erica@rootedwi.org.
Registration is closed for the Spring 2023 Teaching in Nature's Classroom course. To be notified when registration opens for the next offering of this course, click one of the buttons below.
Cost: Free!
Participants also have the option of registering for 2 graduate credits through the University of the Pacific for $160 (see more details below)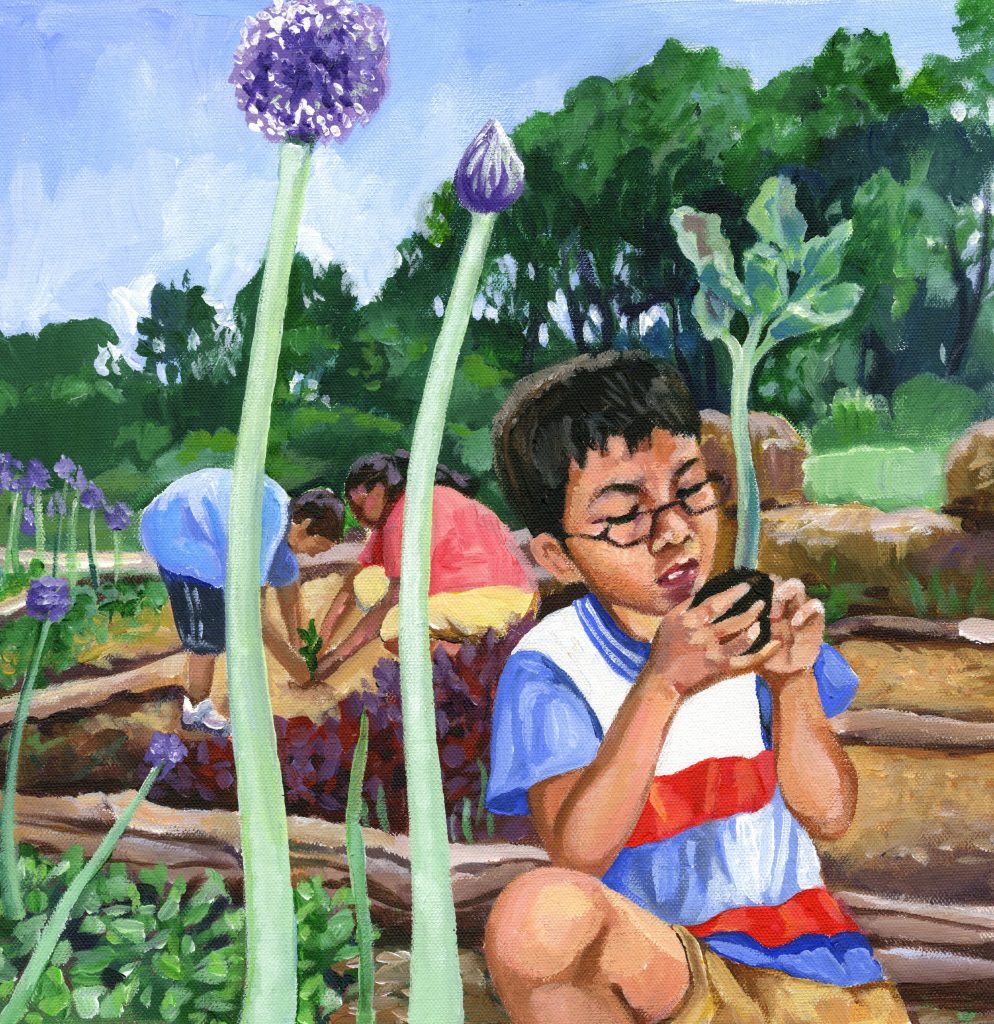 Dates: The course runs 15 weeks 
This is a self-directed, 30-hour course so you can choose to finish the course prior to the end date
Location: Online through Google Classroom
You will need an @gmail.com email address to participate in this course.
Instructors: Nathan Larson, Director, Restorative Places; Erica Krug, Farm to School Director, Rooted
Course Description: This course, developed as a companion to the book Teaching in Nature's Classroom: Principles of Garden-Based Education, is an opportunity for educators new to outdoor and garden-based learning, as well as educators who are experienced in the field, to consider best practices and reflect on their own teaching practice in outdoor learning environments, with a focus on school and community youth gardens.
The coursework is intended to be useful and inspirational. You should plan for 30 hours total to complete the course. This course is designed to be flexible and self-directed so you can fulfill the course requirements according to your optimal timeframe and in relation to your concurrent teaching duties and other obligations.

If you have any questions about the course itself or registering for the course, please email info@wischoolgardens.org. If you have any questions about accessing and using Google Classroom, please refer to our FAQ page.

Upon completion of the course, participants will receive a Certificate of Completion.
Optional Graduate-Level Professional Development Credit: If you would you like to register for 2 Semester Units of Credit through the University of the Pacific (UOP) for a total of $160 ($80/credit), please indicate this by selecting "Yes" in the final question on the registration form.
This course is brought to you by Rooted, whose work and collaborations are grounded in food, land, and learning, Life Lab, a national leader in the garden-based learning movement, and the Wisconsin School Garden Network.