These short, topic-focused documents are written specifically for Wisconsin school gardens by the Wisconsin School Garden Network and our partners. Please contact us if you would like to suggest a topic for a brief you feel would be of interest to Wisconsin garden educators!
.

.
.
.
.
.
Connecting Garden-Based Curriculum to Standards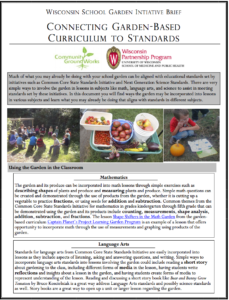 Much of what you may already be doing with your school garden can be aligned with educational standards set by initiatives such as Common Core State Standards Initiative and Next Generation Science Standards. There are very simple ways to involve the garden in lessons in subjects like math, language arts, and science to assist in meeting standards set by these initiatives. In this document you will find ways the garden may be incorporated into lessons in various subjects and learn what you may already be doing that aligns with standards in different subjects. Download Brief »
.
Outdoor Classrooms For School-Age Learners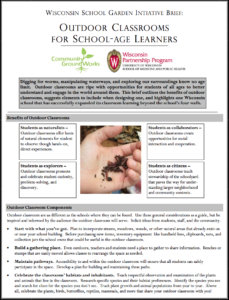 Digging for worms, manipulating waterways, and exploring our surroundings know no age limit. Outdoor classrooms are ripe with opportunities for students of all ages to better understand and engage in the world around them. This brief outlines the benefits of outdoor classrooms, suggests elements to include when designing one, and highlights one Wisconsin school that has successfully expanded its classroom learning beyond the school's four walls. Download Brief »
.
.
Outdoor Classrooms For Young Learners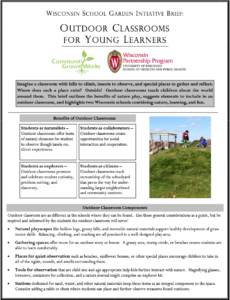 Imagine a classroom with hills to climb, insects to observe, and special places to gather and reflect. Where does such a place exist? Outside! Outdoor classrooms teach children about the world around them. This brief outlines the benefits of nature play, suggests elements to include in an outdoor classroom, and highlights two Wisconsin schools combining nature, learning, and fun. Download Brief »
.
.
Water Conservation and Education in School Gardens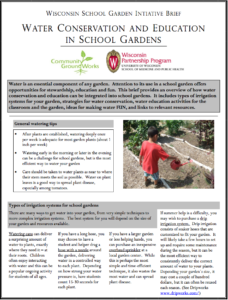 Water is an essential component of any garden. Attention to its use in a school garden offers opportunities for stewardship, education and fun. This brief provides an overview of how water conservation and education can be integrated into school gardens. It includes types of irrigation systems for your garden, strategies for water conservation, water education activities for the classroom and the garden, ideas for making water FUN, and links to relevant resources.. Download Brief »
.
.
.
.

.
.
.
.
.
Telling Your Garden Story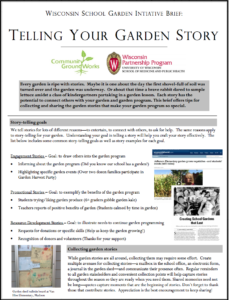 Every garden is ripe with stories. Maybe it is one about the day the first shovel-full of soil was turned over and the garden was underway. Or about that time a brave rabbit dared to sample lettuce amidst a class of kindergartners partaking in a garden lesson. Each story has the potential to connect others with your garden and garden program. This brief offers tips for collecting and sharing the garden stories that make your garden program so special.  Download Brief »
.
.
Connecting the Child Care Garden to the Table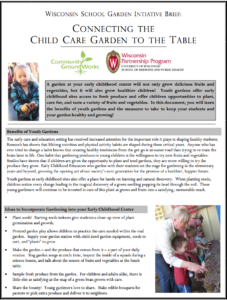 A garden at your early childhood center will not only grow delicious fruits and vegetables, but it will also grow healthier children! Youth gardens offer early childhood sites access to fresh produce and offer children opportunities to plant, care for, and taste a variety of fruits and vegetables. In this document, you will learn the benefits of youth gardens and the measures to take to keep your students and your garden healthy and growing! Download Brief »
.
.
Connecting the School Garden to the Cafeteria
Bringing school garden produce into the school cafeteria can be a win-win: food service staff find a local source of fresh produce and students enjoy the bounty that they helped plant and harvest. With proper attention to food safety, both in the garden and in the cafeteria, students are able to see their food change from seed, to plant, to lunch! Download Brief »
.
.
.
Funding Your School Garden Program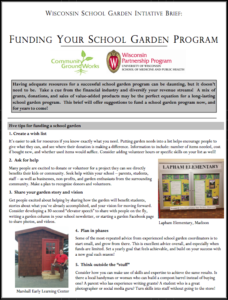 Having adequate resources for a successful school garden program can be daunting, but it doesn't need to be. Take a cue from the financial industry and diversify your revenue streams! A mix of grants, donations, and sales of value-added products may be the perfect equation for a long-lasting school garden program. This brief will offer suggestions to fund a school garden program now, and for years to come! Download Brief »
.
.
Gardens for Young Learners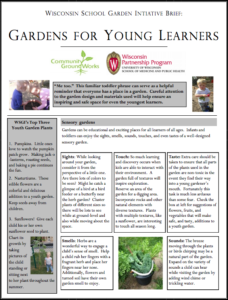 "Me too." This familiar toddler phrase can serve as a helpful reminder that everyone has a place in a garden. Careful attention to the garden design and materials used will help ensure an inspiring and safe space for even the youngest learners. Download Brief »
.
.
.
.
High Tunnels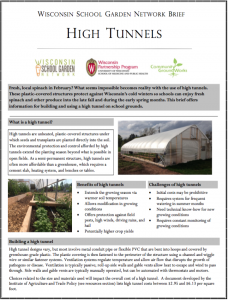 Fresh, local spinach in February? What seems impossible becomes reality with the use of high tunnels. These plastic-covered structures protect against Wisconsin's cold winters so schools can enjoy fresh spinach and other produce into the late fall and during the early spring months. This brief offers information for building and using a high tunnel on school grounds. Download Brief »
.
.
Supporting Youth Gardens with Master Gardener Volunteers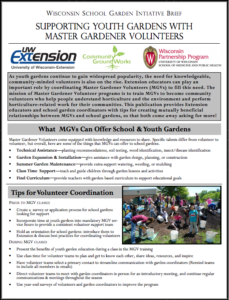 As youth gardens continue to gain widespread popularity, the need for knowledgeable, community-minded volunteers is also on the rise. Extension educators can play an important role by coordinating Master Gardener Volunteers (MGVs) to fill this need. The mission of Master Gardener Volunteer programs is to train MGVs to become community volunteers who help people understand horticulture and the environment and perform horticulture-related work for their communities. This publication provides Extension educators and school garden coordinators with tips for creating mutually beneficial relationships between MGVs and school gardens, so that both come away asking for more! Download Brief »
.
Tips for Creating an Accessible School Garden
An accessible school garden is one that gives all students an opportunity to participate in its activities. While this brief offers general suggestions for garden design, bed styles, tools, practices, and preparation that will help a garden serve as an inclusive setting, remember that communicating with children, their caregivers, and experienced school personnel will best create a garden where all children can comfortably and safely grow, play, and learn. Download Brief »
.
.
.
.

.
.
.
.
.
Building Pollinator Gardens
Where have all the pollinators gone?! The decline in pollinator populations has been attributed to the excessive use of pesticides and conversion of natural landscapes. Without pollinators, the garden fresh food we eat and succulent flowers we enjoy would not be possible! This brief will offer suggestions on how to build a successful pollinator garden that attracts diverse pollinators! Download Brief »
.
.
.
Composting at School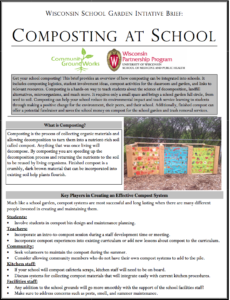 This brief provides an overview of how composting can be integrated into schools. It includes composting logistics, student involvement ideas, compost activities for the classroom and garden, and links to relevant resources. Composting is a hands-on way to teach students about the science of decomposition, landfill alternatives, microorganisms, and much more. It requires only a small space and brings a school garden full circle, from seed to soil. Composting can help your school reduce its environmental impact and teach service learning to students through making a positive change for the environment, their peers, and their school. Additionally, finished compost can offer a potential fundraiser and saves the school money on compost for the school garden and trash removal services. Download Brief »
.
Fruit Trees in Schools: Before You Plant
Fruit trees are a logical, and sweet, extension of school gardens. Not only can they provide an abundant source of nutrient-rich food for students and cafeterias, they can also stand for years as the centerpiece of a living ecology classroom. This document provides information on factors to consider before trees are planted, including school approval, choosing and preparing a planting site, and selecting varieties best suited for schools. Download Brief»
.
.
Fruit Trees in Schools: Planting, Programming, and Aftercare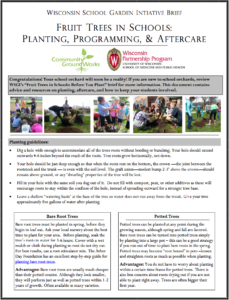 Congratulations! Your school orchard will soon be a reality! If you are new to school orchards, review our brief, "Fruit Trees in Schools: Before You Plant," for more information. This document contains advice and resources on planting, aftercare, and how to keep your students involved. Download Brief »
.
.
.
.
Kid-Friendly Tools in the Garden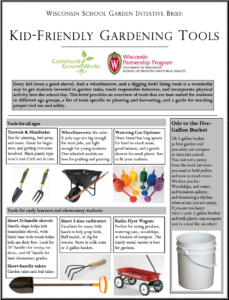 Every kid loves a good shovel. And a wheelbarrow, and a digging fork! Using tools is a wonderful way to get students invested in garden tasks, teach responsible behavior, and incorporate physical activity into the school day. This brief provides an overview of tools that are best-suited for students in different age groups, a list of tools specific to planting and harvesting, and a guide for teaching proper tool use and safety. Download Brief »
.
.
Favorite Garden Lessons and Activities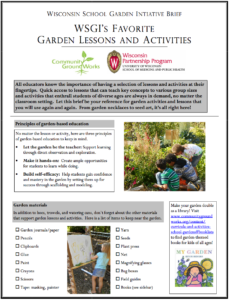 All educators know the importance of having a selection of lessons and activities at their fingertips. Quick access to lessons that can teach key concepts to various group sizes and activities that enthrall students of diverse ages are always in demand, no matter the classroom setting. Let this brief be your reference for garden activities and lessons that you will use again and again. From garden necklaces to seed art, it's all right here! Download Brief »
.
.
Garden Lesson Ideas from Wisconsin Educators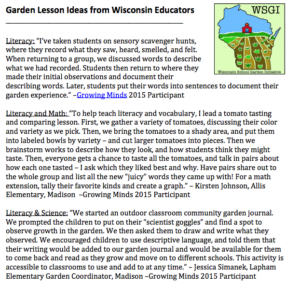 During the 2015 Growing Minds course, participants were asked to briefly describe one lesson they have used in the garden that connects with core curriculum. There were so many ideas, we had to make an entire document! View Resource »
.
.
Indoor Gardening At School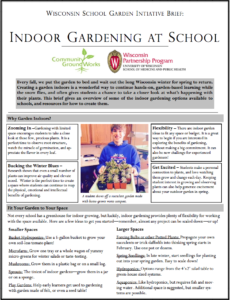 Every fall, we put the garden to bed and wait out the long Wisconsin winter for spring to return. Creating a garden indoors is a wonderful way to continue hands-on, garden-based learning while the snow flies, and often gives students a chance to take a closer look at what's happening with their plants. This brief gives an overview of some of the indoor gardening options available to schools, and resources for how to create them. Download Brief »
.
.
.
.

.
.
.
.
.
Improving Health with School Wellness Policies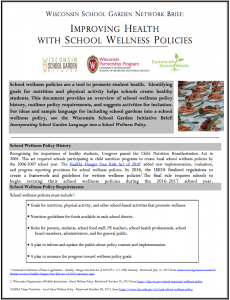 School wellness policies are a tool to promote student health. Identifying goals for nutrition and physical activity helps schools create healthy students. This document provides an overview of school wellness policy history, outlines policy requirements, and suggests activities for inclusion. For ideas and sample language for including school gardens into a school wellness policy, see the Wisconsin School Garden Initiative Brief: Incorporating School Garden Language into a School Wellness Policy. Download Brief »
.
.
Incorporating School Garden Language Into a School Wellness Policy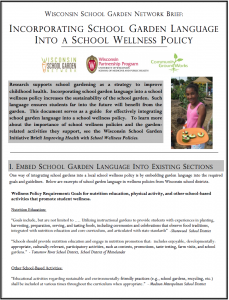 Research supports school gardening as a strategy to improve childhood health. Incorporating school garden language into a school wellness policy increases the sustainability of the school garden. Such language ensures students far into the future will benefit from the garden. This document serves as a guide for effectively integrating school garden language into a school wellness policy. To learn more about the importance of school wellness policies and the garden-related activities they support, see the Wisconsin School Garden Initiative Brief: Improving Health with School Wellness Policies. Download Brief »