Each garden is full of stories. These stories inspire and unite us, and help the school garden movement in Wisconsin continue to grow. Here you will find feature-length stories highlighting successes and struggles of a wide array of garden-based education programs across Wisconsin. We hope they serve as a web of inspiration and resources from garden to garden and city to city.
If you have a story to share, please email Renata Solan at renata@communitygroundworks.org.
.
Colby Elementary School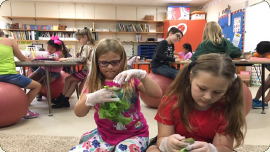 Second Graders Grow Dozens of Pounds of Lettuce Indoors
Thanks to dedicated educators, creative funding, and community support, Colby Elementary students are farming through the winter. Read »
Oneida Nation School District

Oneida Nation School District Teaches Culture & Wellness through Gardening and Farm-to-School Programs
For students in the Oneida Nation School District, garden-based education is a link to their heritage. Read »
Garden to Cafeteria Toolkit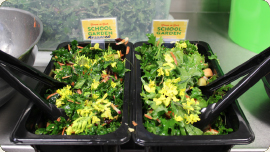 Whole Kids Foundation & Slow Food USA Support District-wide Efforts to bring Garden-grown Food to School Cafeterias
An exciting toolkit walks school districts through the steps to establish successful garden to cafeteria protocols to incorporate garden-grown veggies in school's menu. Read »
.
.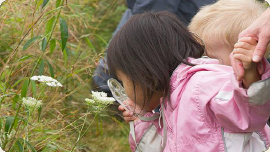 Woodland Dunes Nature Preserve, Two Rivers, WI
Nature Center Features Garden to Encourage Imaginative Play
The Woodland Dunes Nature Preserve in Two Rivers, Wisconsin is home to a garden that features musical instruments, an area for building, and a prairie maze that is perfect for exploring and observing insects. Read »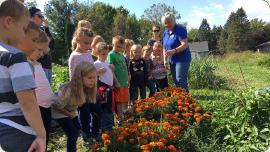 Prescott, WI
Borner Farm Project & Carpenter Nature Center Partner to Bring Garden-based Education to Malone Elementary School
A creative partnership between a local farm, a nature center, and an elementary school gives elementary school students in Prescott, WI access to farm- and garden-based education. Read »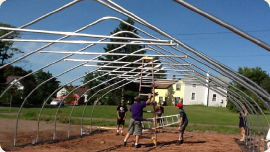 Washburn High School
School Meets Challenge of Winter
Thanks to their high tunnel greenhouse, schools can extend the growing season to encompass more of the traditional school months and provide lots of fresh veggies for the school's salad bar. Read »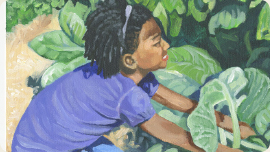 Bilingual and Multicultural Education in Milwaukee
Successful Garden-Based Education Needs More than Plants
Even the most beautiful, well-kept youth garden can't be successful if it does not meet the needs of the kids and the community. Read »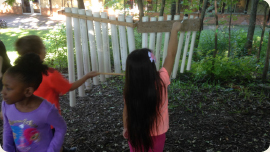 Lakeview Elementary School, Madison, WI
Music Brings Educational Opportunities to the Garden
This month's story exemplifies how sharing ideas can lead to innovative garden features and enhance educational opportunities for everyone. Read »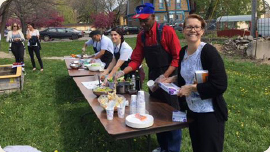 Mobile Nutrition Classroom, Milwaukee, WI
Creativity & resilience keep nutrition education alive
Milwaukee's Mobile Nutrition Classroom is one of those projects. When you first hear of it, you can't believe you've never encountered the idea before: the need it fills is obvious and the execution is creative and thoughtful. Read »
Growing Oshkosh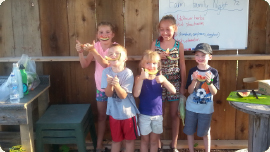 Families Flourish with the help of Garden-based Education

Growing Oshkosh, a non-profit urban farm that supports school garden programming in Oshkosh, firmly believes that food brings people together. The organization's primary work includes establishing and maintaining gardens and programming at local schools, as well as providing gardenbased education at their own farm. Read »
Grow It Forward, Manitowoc, WI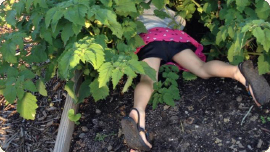 Garden planning is about more than just the plants

"Getting a garden project started can feel daunting," says Amber Daugs, founder of Grow It Forward, a nonprofit organization dedicated to building community and promoting healthy lifestyles in Manitowoc through garden-based education and community gardens. "It's important to remember that there's lots of help and support out there." Read »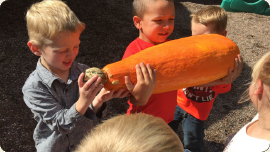 Terri's Treehouse, Woodruff, WI
Garden education brightens classroom and kitchen in the winter

Terri's Treehouse is a unique early learning program in Wisconsin's Northwoods. During the summer months, the garden, with its gathering center, greenhouse, children-friendly beds, outdoor science center, and compost, is a hotbed of learning and play. But garden-based education doesn't come to a halt with the first frost. (Get the featured recipe here!) Read »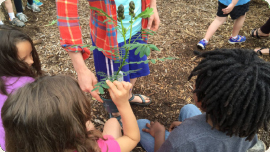 Lapham Elementary School, Madison, WI
Growing a garden by cultivating relationships
Lapham Elementary School's garden is sustained by strong relationships with committed people in and beyond the school's community. Read »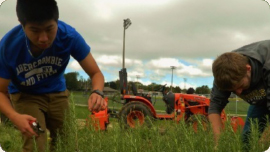 Sheboygan Falls High School
A farm, a school, and 1,200 pounds of tomatoes
Each year, the agricultural education program feeds students' minds and bodies, growing 1,200 pounds of tomatoes, as well as hundreds of pounds of cucumbers, peppers, carrots. Read »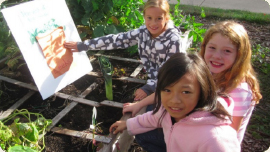 State Road Elementary, La Crosse, WI
Seed germination rates, tomato circumference calculations, and more!
From salad dressing to scavenger hunts, the students at State Road Elementary School are finding that math plus gardening equals major fun. Read »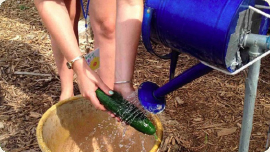 Troy Kids' Garden, Madison, WI
Learning about water, and so much more!
When Becca Brokaw opens the tap on the rain barrels at the Troy Kids' Garden, curiosity surrounds her. "So, that comes from the rain from the sky?" one student asks, before toting an orange watering can out to the garden. Read »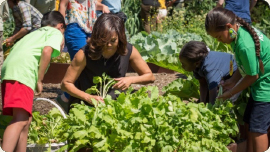 Washburn School District
The story behind the garden program that took them to the White House
This spring, Washburn Elementary – a small district in northern Wisconsin – was one of a handfull of schools called on by Michelle Obama to travel to Washington D.C. and take part in the 8th annual White House Kitchen Garden planting. Read »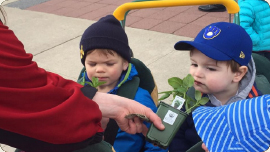 Creative Learning Preschool & Childcare Center, Madison, WI
A garden in the heart of the city
Every Wednesday, the Dane County Farmer's Market sets up shop on Martin Luther King Boulevard, between City Hall and Monona Terrace. Shoppers include local restaurants, college students, state employees on lunch breaks, and…toddlers. Read »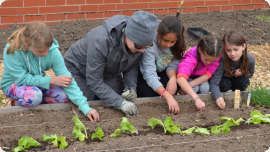 LINCS School Garden, Whitewater, WI
Each afternoon, Liesl Schultz Hying makes her way out to a sunny spot near the playground at Lincoln Inquiry Charter School (LINCS), where the LINCS garden smiles in all shades of green. Recess is in full swing and a flock of students gather around her, asking to help. Read »
Early each summer morning, Becky Wellnitz walks into her classroom in Brodhead, Wisconsin and puts some seeds into a jar. When her Diggin' in the Dirt students arrive, the first thing they do is peek in the jar and guess the number of seeds. "Peas, sunflower seeds, marigold seeds, sprouting potatoes…the potatoes were easy," she laughs. Read »
The story of this inspiring school garden is told using an infographic that combines pictures and text! Create your own school garden infographic to help share your school garden's story using Piktochart, or contact us for help on getting started. Read »
As carefully as any Kindergartener can, Oaklawn Elementary's youngest students dug into the moist, cool soil of their garden bed last spring, gingerly covering the roots of spindly, two-inch-tall sunflower seedlings. "Those seedlings looked a little anemic when they got planted," garden leader Charis Collins admitted, "but by the end of the summer they were ten feet tall, with the most beautiful blossoms in the garden." Read »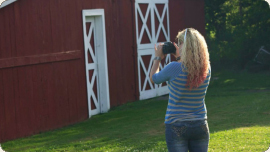 The Production Farm, Green Bay, WI
Farming, film production, and foster care
What do foster care, film production, and farming have in common? Ask Carolyn and Wyatt Kuether. The couple, both Wisconsin natives, are busy piloting The Production Farm, a Green Bay-based program that involves teen in the foster care system in local gardening projects, and then gives them the tools and skills to create a film about the experience. Read »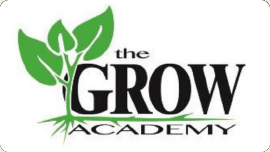 The Grow Academy, Madison, WI
Gardening in juvenile corrections
Like most kids, students at The Grow Academy have a natural curiosity. "Why does this lettuce look so weird? Is this a fake lettuce?," they query as they peer over the classroom's hydroponic grow bed, bursting with red and speckled varieties next to the more traditional green. One student breaks off a piece and starts chewing… Read »
St. Luke's Lutheran Preschool, Wisconsin Rapids, WI
When Courtney Stangl was a little girl, she used to sneak into her grandparents' garden and eat all the green beans as she could find. But a can of green beans for dinner that night? Forget about it… Read »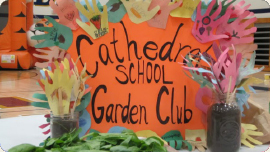 Cathedral Elementary School, La Crosse, WI
Beth Piggush loves seeing kids run to the garden to grab an after school snack. "Ground cherries are a favorite," the Cathedral Elementary volunteer garden coordinator said. "Cherry tomatoes and beans are great too. Whatever they can find and try, they'll eat." Read »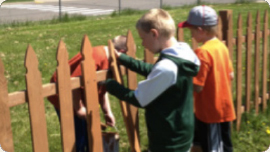 Webster Elementary School, Webster, WI
Garden buddies
At Webster Elementary, students look up to their peers. They don't have to look too far, however. That's because the school's oldest students – fourth graders – can be found squatting down to harvest potatoes, wrangle weeds, or investigate soil critters with Webster's younger Garden Buddies. Read »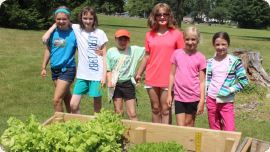 Plymouth Schools, Plymouth, WI
Following the garden "What if…"
This fall, Jessica Mella will stand in the produce section of the Plymouth Piggly Wiggly, ready to answer questions about tomatoes. Tomatoes, one of Plymouth Schools' Harvest of the Month, are featured in school taste tests and lunches, and on the vines in Plymouth school gardens… Read »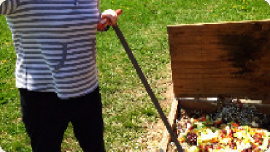 Mount Horeb High School, Mt. Horeb, WI
"Worms Work" in special ed class
Franke Wallitsch sells the best soil around. A recent graduate of Mt. Horeb High School, Wallitsch got his start as a composter–and a businessman–at his alma mater. Challenged by autism that causes him to be a non-verbal communicator, Wallitsch was able to gain experience… Read »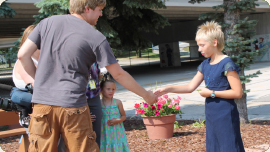 Howe Elementary School, Wisconsin Rapids, WI
The golden shovel
Howe Elementary School has a golden shovel.  This shovel doesn't haul mulch or turn soil.  Instead it is displayed near the school office acknowledging the garden helpers that used other, more ordinary shovels to revitalize Howe's garden… Read »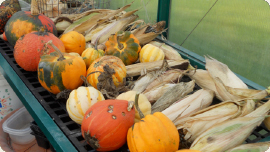 Galesville Elementary School, Galesville, WI
Recipes from the food court
Jean Wallner has worked in school food service for 18 years, but has never seen students eat more vegetables than she does now. "I thought if I could just get them planting, they might decide to eat better," she said… Read »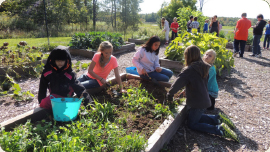 Iron County UW Extension
Bike blenders, tech ed, and school garden support
In the Hurley School Garden, the bike blender does more that mix up tasty smoothies and salsa. It gets people talking. Joy Schelble of UW Extension Iron County, who helps run nutrition education programs at the garden, says the modified bicycle provides a place of "humor and community" for all ages and income levels…  Read »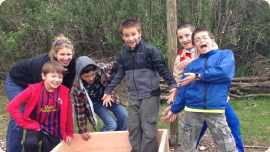 Dixon's Innovative Garden, Dixon, WI
Fun with fundraising
When Wendy Penney and Molly Kaminsky began fundraising to build a garden at Dixon Elementary School, the outpouring of support they received exceeded their highest hopes. In fact, the newly envisioned Dixon's Innovative Garden,or DIG, garnered so much support from the community in its first year, that it didn't even need most of its PTO-designated funds to get growing…  Read »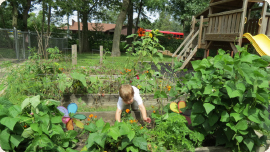 Rock County UW Extension
Microgrants and microgardens
What can you do with one hundred dollars and a little extra know-how? Christy Marsden and Kathy Hetzel of Rock County UW Extension decided to find out….  Read »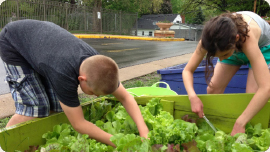 Onalaska Schools
From seedlings to salad bars
This winter, first grade students in Onalaska schools will observe lettuces sprouting up in a rainbow of colors, from green, to red, to freckled. "I want to show the kids how many types of lettuce there are, not just iceberg…" Read »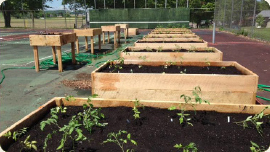 Sparta High School
Tennis court gardens
During spring and fall at Sparta High School, food service staff members take regular trips to the on-grounds tennis court, where they pick tomatoes, lettuce, cabbage, and other produce for students' lunch trays. Tennis court? Read »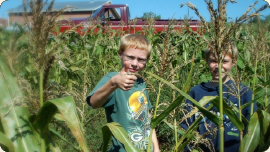 Weston Schools
Garden to cafeteria program
Seven years ago, while walking around the school grounds, Carl Welke thought, "This would be a great place for a garden." That day, he called a recent Weston alumnus, and asked if he would be interested in helping plant some corn on school grounds. Forty-five minutes later, the alum showed up at Welke's door with a tractor and plow… Read »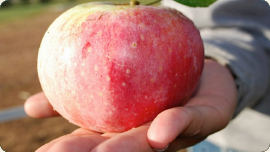 Auburndale High School
School orchard and farm to school join forces
At Auburndale High School, apples get autopsies. "We want to find out what went wrong, and if this is a deal-breaker disease," Mark Cournoyer, Auburndale's agriculture teacher, said. Students learn through their apple dissections that many of the seemingly imperfect fruit are perfectly suited for cider, sauce… Read »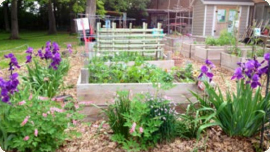 Lake View Elementary School, Madison, WI
Master Gardener volunteers
Jane Graham is an alum on Lake View Elementary – and recently, a trained Master Gardener. Recently, she had the change to use her lifelong love of gardening to help out her alma mater… Read »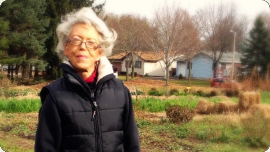 Frank Allis Elementary School, Madison, WI
The gardening librarian
Once upon a time, a fifth grade student walked into Sue Dauberman's library at Frank Allis Elementary and started counting. "Miss Sue," she said, "you have over fifth plants in this library. Can I have one?"… Read »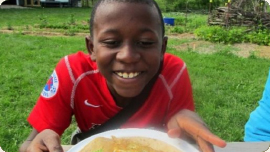 Lake Valley Camp, Milwaukee, WI
Summer camp garden
Every day this summer, a group of of teens will gather in the garden at Lake Valley Camp. They discuss what they will be teaching that day, and prepare for the younger campers to arrive. Each morning, they host two groups of campers in the garden; each afternoon, they lead two cooking classes in the camp's learning kitchen, constructed from a renovated barn… Read »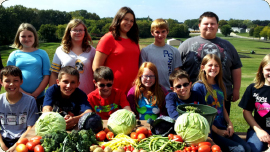 Horicon High School
Solving the summer maintenance challenge
No school faces an easy task when it comes to summer garden maintenance, but managing over 65,000 square feet of growing space feels a little mind-boggling, even for the seasoned gardener. Now in its second season, the garden's presence in the cafeteria draws ever more students, making their way willingly back to school during summer vacation… Read »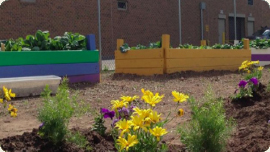 West High School, Green Bay, WI
Multicultural garden
E-ben Grisby wanted his students to know that you don't have to fit a stereotype to do organic gardening. A year later, he has helped student leaders at Green Bay's West High School create a garden that debunks pre-conceived notions about who can grow good food, or what that food should be. Read »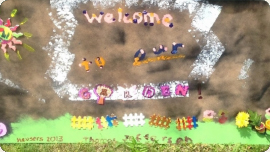 Thomas Jefferson Elementary School, Wasau, WI
After school gardening
In the fall of 2013, Wausau crossing guards went home with freshly-made pickles, and local residents opened their doors to bags full of veggies – following a resounding "ding-dong!" and a scampering of feet. The veggies came with a note: "Compliments of Thomas Jefferson Elementary Garden…" Read »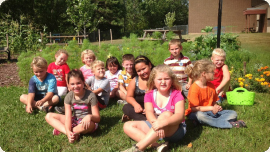 Turtle Lake School Garden, Turtle Lake, WI
Coins and collaboration
The school garden at Turtle Lake started out small, with room to grow. The 36- by- 36-foot plot – which contains a central courtyard for student seating as well as corn, tomatoes, herbs, and flowers – was designed by the school's Environmental Science class to expand outwards in concentric squares, each expansion adding a new layer… Read »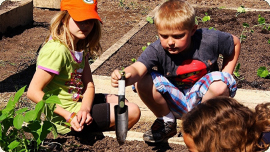 Luck School District
Going green and healthy
As you drive into Luck, you are welcomed with pictures of shamrocks and horseshoes, and a sign that says, "You're in Luck!" The town's puny greeting is a mere sign (another pun intended) of its tight-knit community. This sense of community extends to Luck's K-12 school, whose 4,000-square-foot garden brings together students, teachers, neighbors, parents… Read »