Thursday, May 21, 2020 is Wisconsin School Garden Day!
Wisconsin School Garden Day honors and celebrates the educators, students, families, community leaders, and all people who have made garden-based education a reality and an asset in their schools and communities throughout the state.
Wisconsin is a leader in garden-based education. This day brings recognition to the people and programs giving Wisconsin's youth access to innovative, hands-on educational opportunities.
You can participate in Wisconsin School Garden Day by engaging in some type of garden-based education activity or celebration on May 21, 2020 (or another day that week) in solidarity with youth garden programs across the state.
Whether your garden-based education program consists of a half acre of raised beds, some potted herbs, or seeds germinating on a countertop, you can participate in Wisconsin School Garden Day. Check back for more information in the coming months. In the meantime, if you're looking for inspiration:
We want to know what you have planned! If you know how you will celebrate Wisconsin School Garden Day, tell us about it! You can email Communications Director Renata Solan or share on Twitter or Facebook with the hashtag #WISchoolGardenDay. Wisconsin School Garden Day Resources: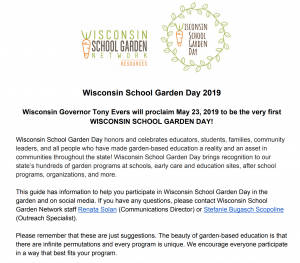 Wisconsin School Garden Day Activity Guide: This guide has information to help you participate in Wisconsin School Garden Day in the garden and on social media. Please remember that these are just suggestions. The beauty of garden-based education is that there are infinite permutations and every program is unique. We encourage everyone participate in a way that best fits your program.    
.
.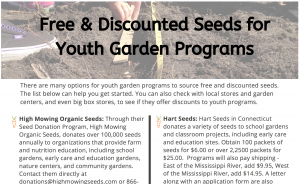 Free & Discounted Seeds for Youth Garden Programs: This document lists companies and organizations that provide free and/or discounted seeds for youth garden programs. This list is not specific to any state or region, so you may also want to check with local stores and organizations if you are looking to source seeds for your youth garden program.