Thursday, May 20, 2021 is Wisconsin School Garden Day!
Wisconsin is a leader in garden-based education. This day brings recognition to the people and programs giving Wisconsin's youth access to innovative, hands-on educational opportunities.
Now, more than ever, youth garden educators are displaying resilience, innovation, and creativity as schools and programs are finding ways to continue making gardens an essential part of children's education.
You can participate in Wisconsin School Garden Day by engaging in some type of garden-based education activity or celebration on May 20, 2021 (or another day that week).
This year, you may be celebrating virtually or in person. We encourage everyone to celebrate Wisconsin School Garden Day in a way that is safe and best fits them and/or their programs. Any activity that involves kids engaging with a garden or gardening–including, but not limited to, activities around planting, observing, art, literature, STEM, weeding, and planning–can be a way to celebrate Wisconsin School Garden Day.
If you're looking for inspiration:
We want to know what you have planned! If you know how you will celebrate Wisconsin School Garden Day, tell us about it! You can email Communications Director Renata Solan or share on Twitter or Facebook with the hashtag #WISchoolGardenDay.
.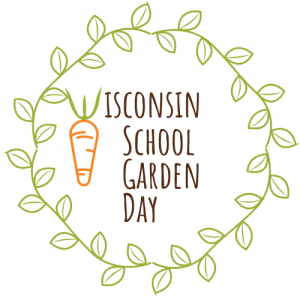 Copy the Wisconsin School Garden Day logo to use at your program!