The Wisconsin Youth Garden Educators Discussion Group is a closed Facebook group for Wisconsin's youth garden community.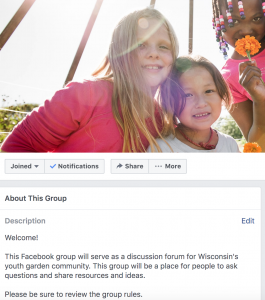 With more than 600 gardens on our Wisconsin School Garden Network Map, it is clear that our community is a vast resource of knowledge about gardening with youth. This group will is a place for people to interact with and learn from each other, ask questions, and share resources and ideas. Because it is a closed group, only approved members will be able to see and respond to posts.
You can find the new Facebook group here: https://www.facebook.com/groups/WIYouthGardenEd/
Hope to see you there!